Surf Kayaking in Morocco this winter was most certainly an experience of a lifetime. I won't write much here because the journal really says it all. Please take a minute or several to read it and check out all the photos.
CLICK HERE TO VIEW THE FULL JOURNAL
Our crew on the beach at Tafadna. From left to right, myself, Nathan Eades, Joey Hall, Tom Lill
I want to thank my distinguished travel and surf mates Joey, Nathan, Tom, Nick and Lou. Enjoy the video and the journal. The full account of this trip is coming out on DVD in Fall 2008 on Deadman Productions' INTERFERENCE "a surf kayak film"
Thanks to the musical artists, F*&@%D UP and Herbal Flesh Tea. Check 'em out!
Until next time,
Spencer Cooke, Effort Inc.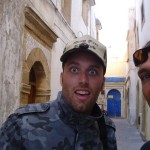 Joey and I, Morocco Streets