Swank.  They sound a bit like Fugazi but they have the addition of a horn section.  That's a description I've heard on more than one occasion, which is a pretty bold statement considering the prowess of Fugazi.  I can understand the comparison and recognize that they may have been influenced by Fugazi, but Swank definitely had their own, unique vocabulary of sounds.
Their 20-year reunion t-shirts read the word PUNK across the front in bright orange, but I'm not sure the band would necessarily identify with the dictionary definitions* of the word.  To me, punk has a meaning that is fairly subjective and therefore difficult to define.  Their shirt also says brotherhood and another shirt they have says hope, and a song lyric of theirs says "labels we can live without."  These messages don't really scream "criminal, hoodlum or worthless," not in the least.  Punk maybe, but not the way your mom thinks of a punk, and most likely without safety pins, zippers and spiked hair.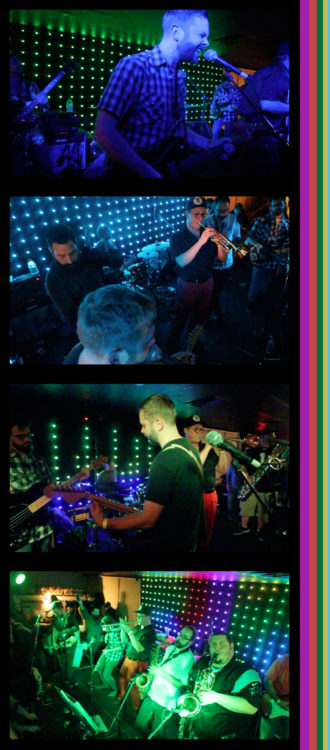 December 29, 2012 – 9:30 pm
20 years after first becoming a band, every x-member of Swank stepped onto stage together at Martins Downtown in Roanoke VA.  These guys are all 30-something years old now, rejoining from the reaches of CA, FL, NY, DC and NC.  Swank spent 3-days in a borrowed practice space rehearsing songs they hadn't played in ten years.  Some of the guys, like Tony Weinbender (saxophone/vocals), hadn't picked up an instrument in as many years.  Despite any odds, the band delivered a performance that left smiles on all our faces.  For many people in attendance this show was like a high school reunion.  Albeit, the band only played one 80s cover song (everyone loves Swank's version of Centerfold).  They even brought on a special guest, Jon Gaunt, for a beautiful rendition of Paper Mache, a tune from the album The Think For Yourself Movement.  Jon is known for his role as fiddle player in a country band with Chuck Ragan, of Hot Water Music fame.  Those were a couple notable moments, not to say the entire night wasn't a highlight, blast from the past, stroll down memory lane.  And between sets we were entertained with honkey-tonk by DJ Blaze Orange, aka Tim Gordon, one of Swanks original bass players.

In their time Swank was a definitive member of the punk rock scene but never fit perfectly into a particular sub-genre.  They weren't hard core, ska, funk, pop, metal or emo.  Instead, they would sometimes exhibit all those sounds, even within the span of one song.  You could hear all those layers, and it worked well that way.  In songs like Fast And Friendly off of their Bound album you could experience rage, fury, happiness, funkiness then rage all over again, in a two minute song.  Punk rock sometimes seems to encompass odd, offbeat, I-don't-know-what bands, which is what is so great about the scene.  In other words, punk is a place for the weirdos that nobody else wanted.  I think Swank fit in there somewhere, but they weren't shy about it and it wasn't awkward.  They did what every band wants to do.  They drew a crowd, played loud and with style, and made you want to sing along.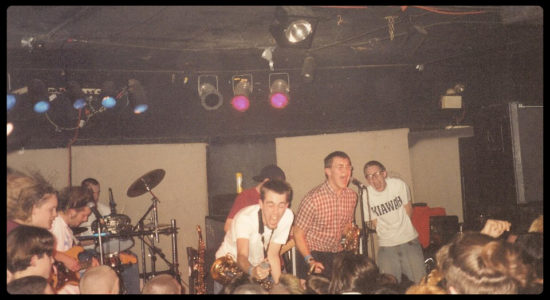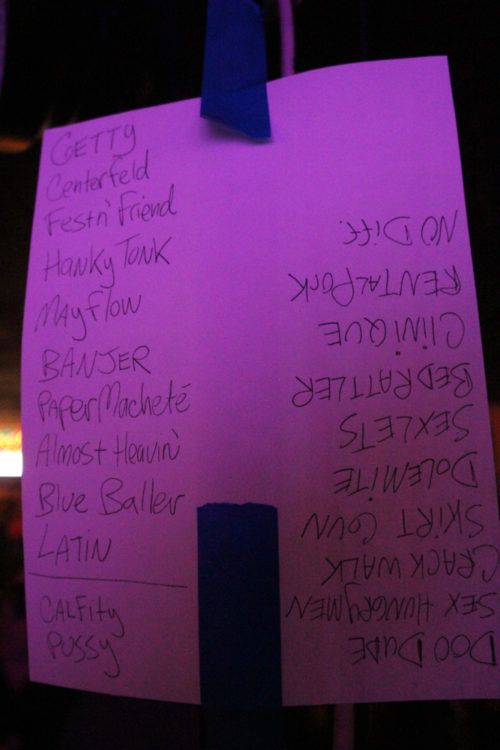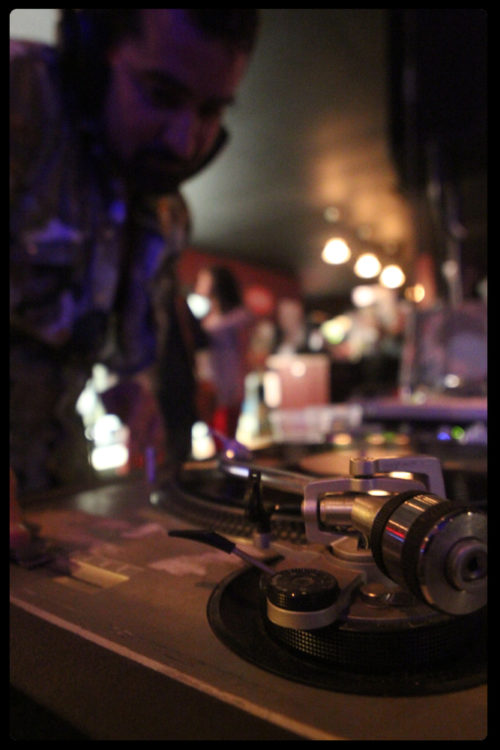 Retrospectively they seemed like a creative bunch of kids who took their high school band instruments and made real music that their peers could enjoy.  Originating from the Roanoke area in the early 1990s, Swank captured the ears, eyes and hearts of punk rockers, skater kids and many more.  I can remember seeing them for the first time at a World Industries skate demo in Salem VA in 1992 with Rodney Mullen.  First of all, it's hard to forget seeing Mullen skate in person.  The guy is completely amazing, not to mention kind and humble.  The guys from Swank are the same way, very approachable, positive and down to earth.  Secondly, bands like Swank have a way of becoming a soundtrack to your life.  I cannot count the hours I've listened to these albums and truly feel they've made a positive influence on my life.  Before Swank it was bands like Bad Brains, Firehose, Red Hot Chili Peppers, the Pixies; pretty broad reaching, mainstream "alternative."  But starting with Swank I found out about a slew of other bands who have made my musical diet a bit more flavorful.  You had your Richmond VA bands of the time like; Avail, Inquisition, Young Pioneers, Action Patrol and Four Walls Falling, soon followed by Strike Anywhere and other acts.  Then you had the Gainesville Florida bands like Hot Water Music and Less Than Jake.  These were bands that became the heart of my music library, and I don't think I would have discovered this music at the time if it wasn't for Swank.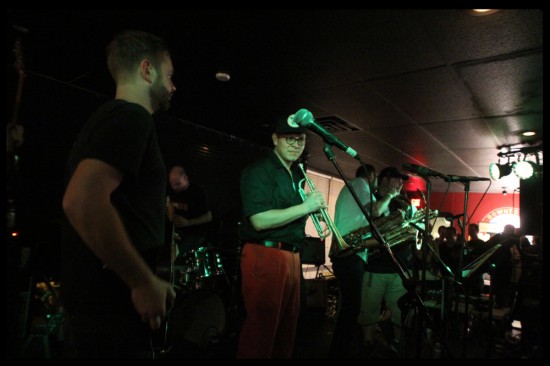 After two distinct incarnations of the band and three albums they officially became inactive.  This would have been in the early 2000s after the release of The Think For Yourself Movement, their final album.  From what I gathered, most or all the group is playing music or contributing to the music world in some way, whether it be through playing in new bands, putting out records or organizing festivals.  Bottom line is that this is a group of really positive, friendly people and they show it through their music and actions.  That was and is Swank.
– Report, photos and videos by Spencer Cooke
– Additional photos and video by Grayson Pritchard and Mitchell Morton

Side note: If you know any of my video production work in kayaking from the past 13 years then this report is a reference to where most of the music came from, with Buck Fever, LVM issues 1-15, Enter the Donkey, The Eddy Feeling, Coming Home and more.  The musicians mentioned, and many more, helped make those films what they were.  This is why I take the time to write about their shows, their new albums, festivals and whatever else they have going on.  Music breathes energy into so much that we do in life and the artists who make it happen are too often overlooked.  My request is that you watch the credits in films, find the music and buy it if it makes you happy.  At least motivate your privileged ass and get on your facebooks and your tweetters and talk about it so other people find out about it.  Then maybe they'll go spend a few dollars to see a band play some live music, or buy a real record.  Bands don't make shit when you buy their music online.  Someone else makes all the money.  Buy their actual records and be patient enough to wait a couple days to get it in the mail.  Go to shows, buy their t-shirts.  That's the only real way they'll make more of that great music that you love so much… jackass!  Just kidding, you're really nice.
References:
Swank "Hell or High Water" coming Spring 2013…
Swank on Facebook
Swank on MySpace
FEST – Tony Weinbender's (sax/vocals) Gainesville Florida music FEST (GO TO FEST, IT'S F'n RAD!!!)
Snakehealers – Chad Smith's (lead guitar/vocals) current country/rock band – new album just out on 12/07/12, BUY IT PUNK!
SirPrizefighter on MySpace – another past band of Chad Smith's – very reminiscent of Swank and well worth listening
John Stump (trumpet/vocals) is very active in the music scene and plays in several groups; Lazy Man Dub Band, The Funk Cousins, The SwayKatz and several other groups.  Additionally he has a for-hire horn section called the Mojo Sauce.
The Takers – previous country band Chad Smith was in
The Red Skulls – Jason Garnett (bass) was in this band after Swank
Jon Gaunt (fiddle) at Chuck Ragan Website
A Swank show I shot 15 years ago in Richmond VA at Twisters

Here's an excerpt from a kayak film I put out in 2008 "The Eddy Feeling" featuring the song Droplet by Swank

*punk
noun
1 informal – a worthless person (often used as a general term of abuse).
– a criminal or hoodlum.
– derogatory (in prison slang) a passive male homosexual.
– an inexperienced young person; a novice;
2 (also punk rock) a loud, fast-moving, and aggressive form of rock music, popular in the late 1970s and early 1980s
typically characterized by colored spiked hair and clothing decorated with safety pins or zippers