Here it is – the long awaited video collage of our day together on the Lower Gauley!
The Girls at Play Ladies of the Lower G adventure brought women together from all over the country to paddle the Lower Gauley together on the friday before Gauley Festival. It was so empowering to meet all these women from all different backgrounds, ages, and levels of paddling experience.  It was the most amount of smiling, giggling, and girltalk I had ever experienced on the river. It's also cool to remember in the midst of all the fun, we were able to raise $400 for American Whitewater.  Way to go!
I am also excited to announce that the music used is from the artists We Versus the Shark from Athens, Georgia.  The track I used is (After)life Things from the album EP of Bees EP. We Versus the Shark is  Luke Fields: guitar, vocals,  Samantha Paulsen: guitar, keys, vocals,  Scott Smith: drums, screams,  Jeffrey Tobias: bass, keys, vocals. They are Bad Ass!!!
These two albums are, the one I used, EP of Bees Ep, and their latest, Dirty Versions. You can listen to samples and purchase their music at hellosirrecords.com –  who also produces a ton of other badass bands.  Alot of these bands play frequently in the southeast, so keep an eye on them. I went to a show in Athens to see Cinemechanica after running the Chattooga, and it was rad!  You can listen to more of We Versus the Shark and purchase from the artists here.
Big props to Girls at Play, Adam Motes, Narr, Hellosir Records, and all the ladies who made this possible!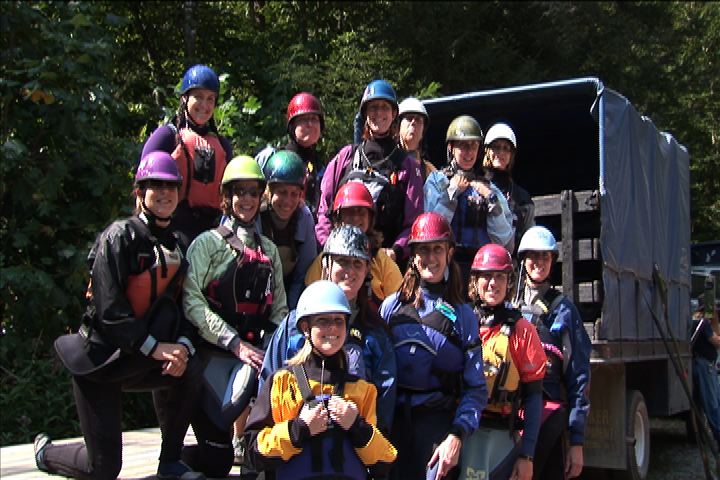 Pass it on!
Here's how to watch this video: At the bottom of this post you will see some small blue text reading "play in popup" and "play now." If you'd like to view the video here and now simply click one of those links. Another option is to open iTunes on your computer and go to the Music Store. There you can search for Rapid Transit, subscribe for free and receive all our podcasts if you like. You may also view this video on the flash player in my Library.