Happy New Year,
Chris Gallaway and I have worked long and hard on a collection of short films which have now been released on DVD here at Rapid Transit.  Our DVD is entitled COMING HOME, and is comprised of these four films:
• The North Shore: A Guide to Getting Lost
• Grand Canyon in Winter
• Interference, wave 2 "How to Go Surf Kayaking"
• Coming Home: North Carolina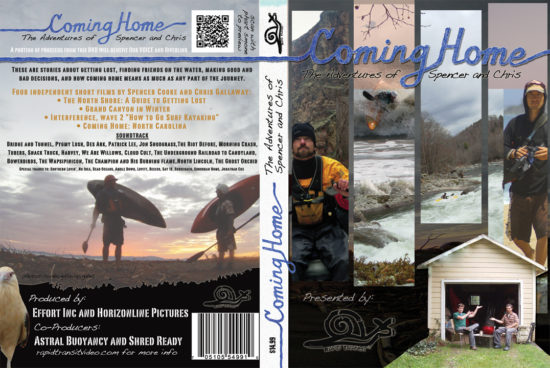 Proceeds from sales of the DVD, as well as funds raised at the video premiere in Asheville (Huge thanks to everyone who attended!  Next public screening is at Coffee Underground in Greenville SC on Feb 4th) will benefit two non-profit organizations local to Asheville, NC. We feel there is something we can all appreciate and gain from these groups and we aim to raise more awareness of both. Our VOICE is a intervention and prevention agency in Buncome County NC that serves victims of sexual assault. In short, they are a rape crisis center, and their services and purpose should not go unnoticed. RiverLink is an organization which spearheads the economic and environmental revitalization of the French Broad River and its tributaries as a place to live, work and play.
There is an awful lot to say about the music in the soundtracks of these films, which we plan to dive into on some separate articles that will be found later at RapidTransitMusic.com
Thanks,
Spencer Cooke – Effort Inc.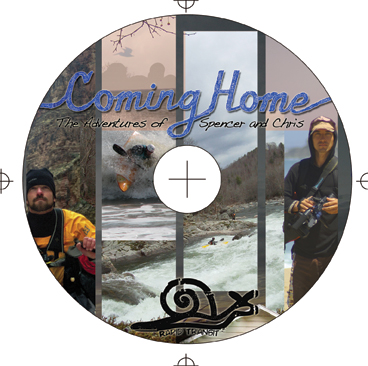 Pertinent Links:
Our VOICE – RiverLink
These are all the fine folks who donated product to raise money for Our VOICE and RiverLink at the world premiere that occurred in Asheville NC on December 22, 2011.
Diamond Brand Outdoors – Astral Buoyancy – Shred Ready – Immersion Research – Limones – Lola Salon – Clingman Cafe – Mike Byer Auto and Truck Repair – Outdoor Sports Marketing – Seal Line – Effort Inc – teamscum – 12 Bones Smokehouse
Purchase the DVD here http://rapidtransitvideo.com/store/2011/04/23/coming-home-dvd-14-99/



You may also find the DVD for sale at great retail establishments such as:
NOC, CKS, Diamond Brand and Ace Adventure Gear