Propagandhi, the Bouncing Souls, Strike Anywhere and Tim Barry (AVAIL singer), are a few names that excite me when I think of music.  I'd like to go see those bands, along with about 30 others, on say… March 6,7,8 in St Augustine FL.
I feel that many kayakers live fairly selfish lives.  Seeing as how kayaking is a very individual activity, this isn't a surprise.  Who controls your kayak?  YOU.  I control my kayak, ME.  YOU are kayaking for yourself and I am doing it for myself.  Yes, kayaking can have a group or team element, a WE element, but it is very much about one person, the one who sits in the cockpit.  I think this is okay in many ways.  Kayaking brings so much joy to me and I know it does the same for many others… and we need our ME time, our alone time.  As paddlers we are lucky to recreate in places like this…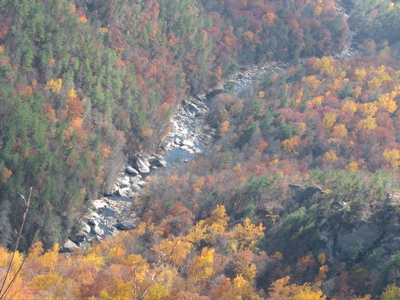 (Autumn at the Linville Gorge)
…but we need to think about others at the same time as we are taking care of our personal wants and needs.  The Harvest of Hope Fest is a fine example of a kayaker who is doing that very thing and making a difference.
Rapid Transit's video producers are continually enthusiastic about showing you our latest footage and photography from our paddling journeys.  We would not be able to do it as well without the help of bands and record labels like No Idea and Jade Tree.  Soooooooo, if you like kayaking and you like music, maybe you would enjoy a huge music festival with bands you may have come to love through watching kayaking videos?  Hmmm, mmmmm?  And this festival has an incredible cause.  Harvest of Hope Fest dot com

(This very passionate kayaker is responsible for putting this festival together.)
The Harvest of Hope Foundation is a very unique and grassroots organization, the only one of its kind in the nation, set up in 1997, exclusively to provide financial aid to migrant farm workers and their families who harvest and produce a large share of this country's fruits, vegetables and other foods.  As a person who eats a lot of fruit and veggies I feel like it's important to take care of these fine people who are bringing it to us.  Visit the Harvest of Hope Foundation web site to find out more about this organization http://harvestofhope.net/
Thanks,
Spencer Cooke
Effort Inc