It's been quite a while since I was able to paddle so much in one week, but recently a rare opportunity came along and I was able to get on the water five out of seven days.  It began with a grand commute across North Carolina with friends Billy Scarboro and Mark Patterson.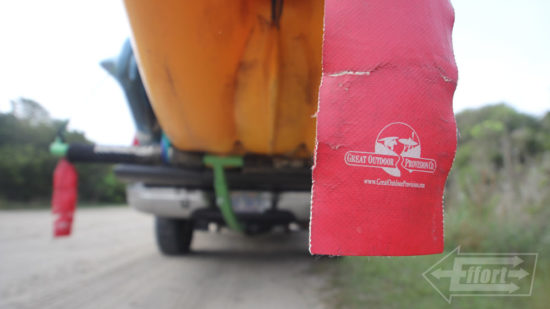 Deflating tire pressure before driving on the beach at Ft Fisher is highly recommended.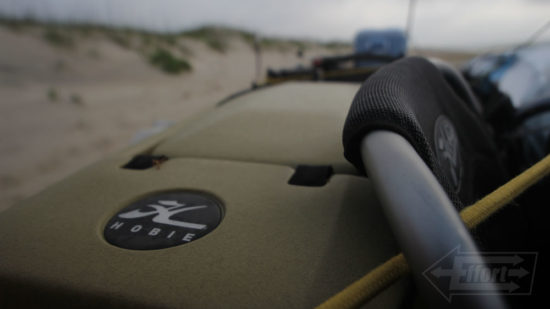 Hobie Pro Anglers and one FeelFree Lure loaded tight with the rest of our gear for a bumpy beach ride.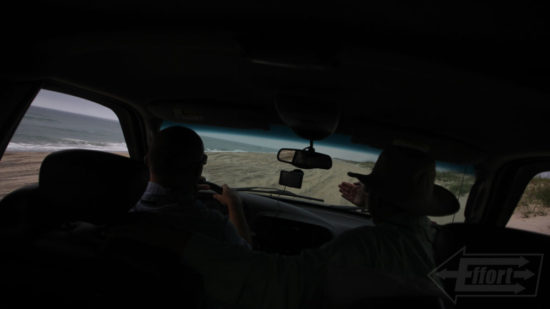 Fishermen talk about fish, water, bait, fishing for bait, fishing with bait, fishing in the water… and that's about it.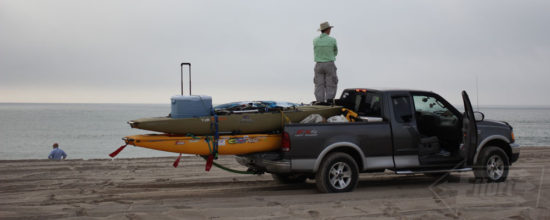 We scouted the surf side for some alleged Cobia but no sign of bait fish or predators. So we headed for shallower waters.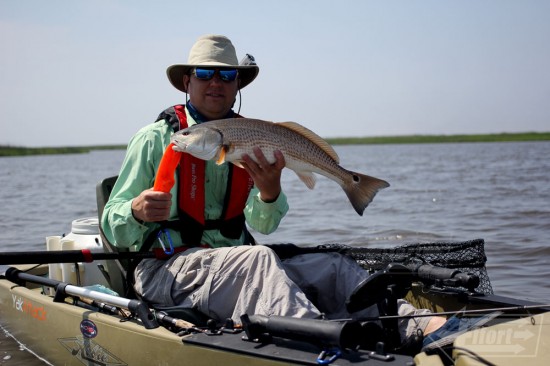 Capatin Scarboro shows off a nice Redfish.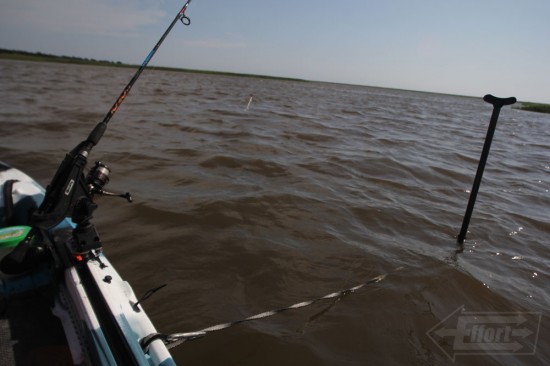 Not only did I get to try out the Feelfree Lure but I also discovered that my whitewater Webtoe from Astral serves as a perfect tether when coupled with an Anchor Pin. Normally this accessory is used in combination with a quick release rescue belt on a PFD but it easily transferred for this purpose. The Anchor Pin I was using is part of the Accent Transformer Pro paddle.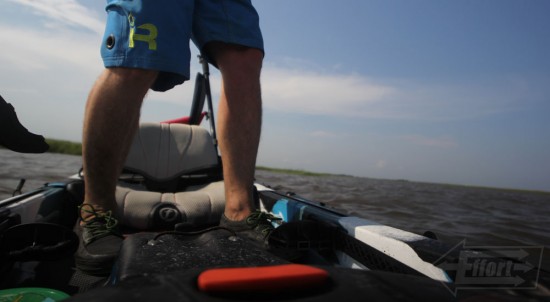 The Lure 10 by Feelfree served as an incredibly stable and rigid standing platform while fishing, and the seat was plush and comfy as well as easy and quick to adjust into high and low positions.
Later in the week I found myself on a sales trip and subsequent whitewater adventure in them hills of West Virginia.  My typical sales trip can at times consist of some sort of paddling excursion, but this one was particularly fun due to plentiful rainfall and good friends.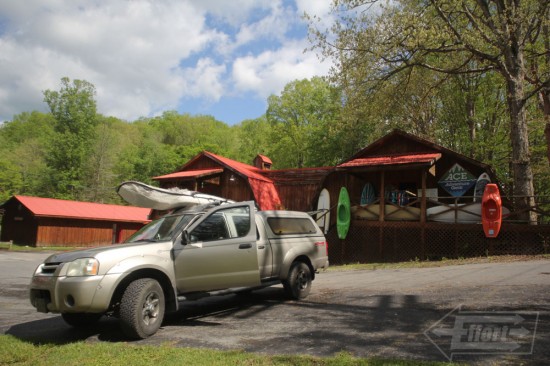 A stop in at Ace Adventure Gear in Fayetteville WV to borrow some boats and visit with our friends at the shop.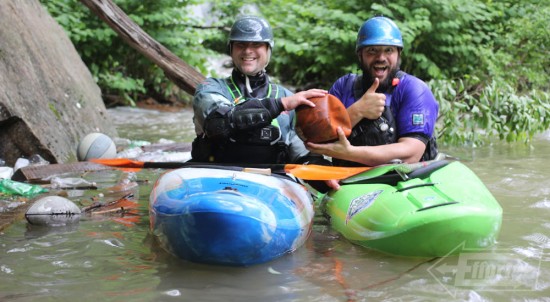 Eric Stalowy from NOC and Brad Scott from ACE sharing a moment in a pristine Mill Creek eddy. See, we can all get along.
The next day we were gifted with 50,000 cfs of New River flood waters, allowing us to enjoy the famous waves of the Dries.  These waves are more fun than I remembered from my last surf session here.  I feel old because that was a decade ago!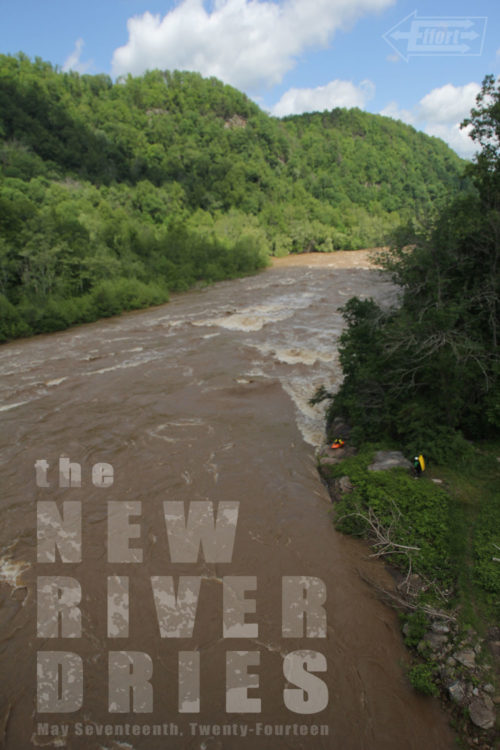 A view of the waves from the bridge.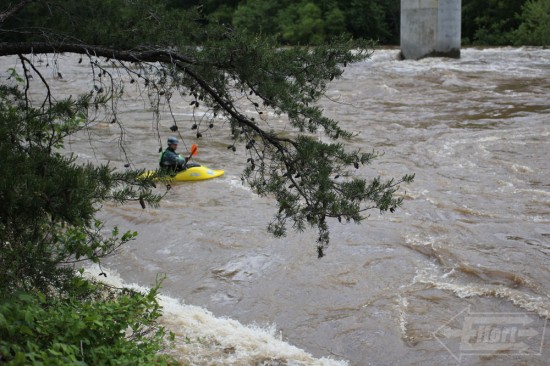 Eric drops in for his first experience surfing a big wave.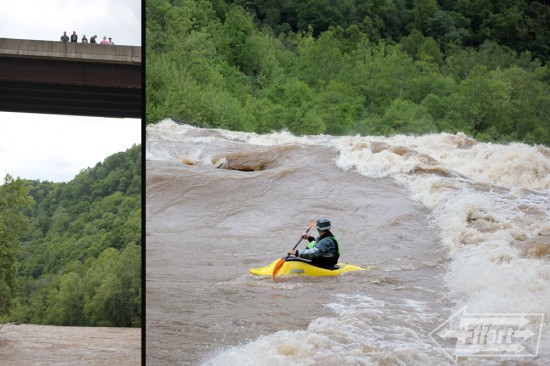 Onlookers enjoy the view while Eric crosses the top wave alongside river right.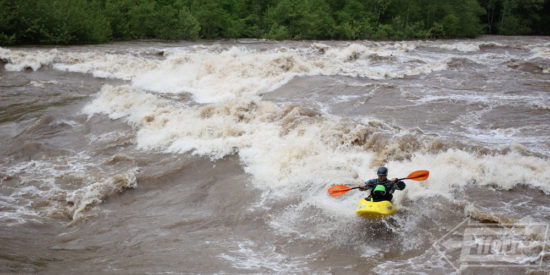 Eric loads up and bounces on a powerful piece of water.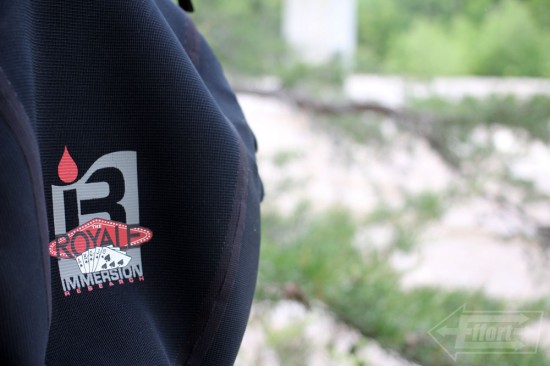 The IR Royale Skirt at the Dries – Superb.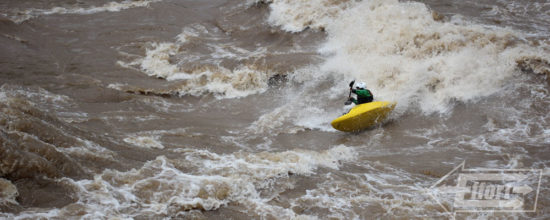 Dan Reiter rails out his brand new Neck Orbitfish (what a find!), one of the sickest playboats ever made.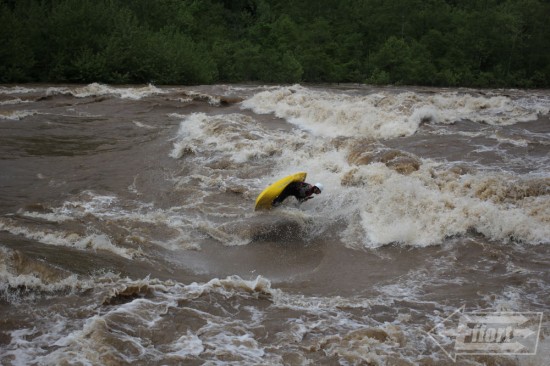 Big air by Adam Johnson, aka riotaj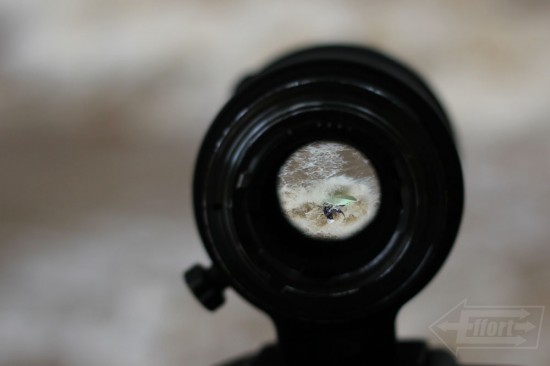 Local paddler Tom appears upsidedown through a lens without a camera body.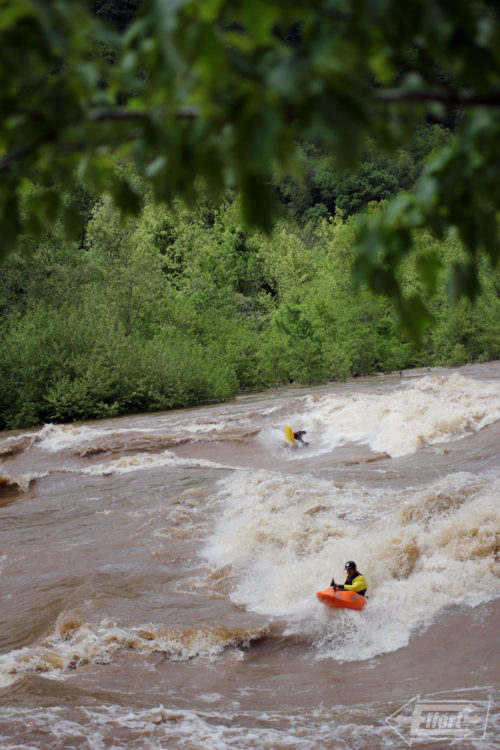 The river left and right waves being shredded at the same time.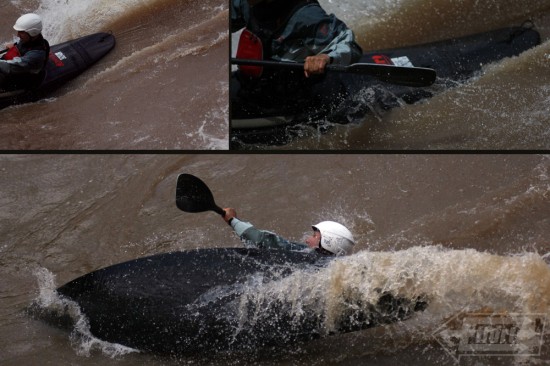 I got to try out my Sword surf kayak which proved to be very dynamic on the top wave on river right.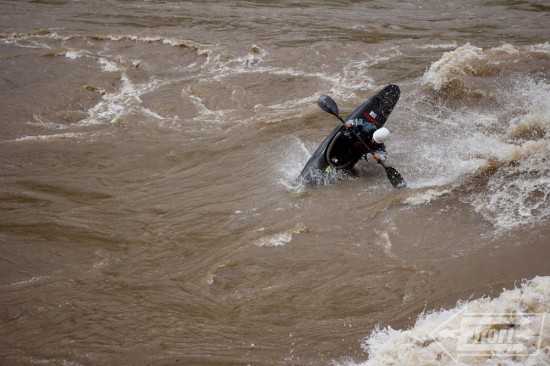 An occasional surge moved through the wave face and helped me catch a tiny bit of air here and there.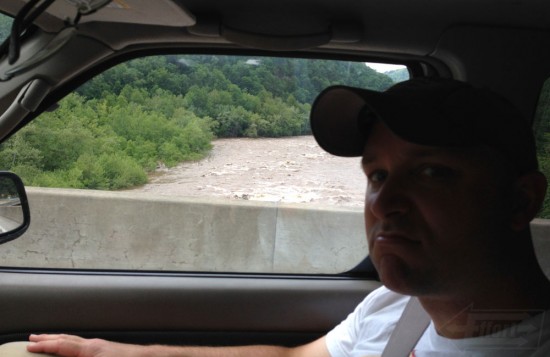 Eric only got a little grumpy when we had to leave.
After a very exciting but tiring day on the Dries of the New we drove north to visit our friends at IR in Morgantown WV and Confluence PA.  A visit with the Welds and IR is always funny, interesting and educational.  You get to experience what it's like to make real kayaking gear and the people who make it happen.  Below are a couple artifacts I documented in the Weld household and the IR office.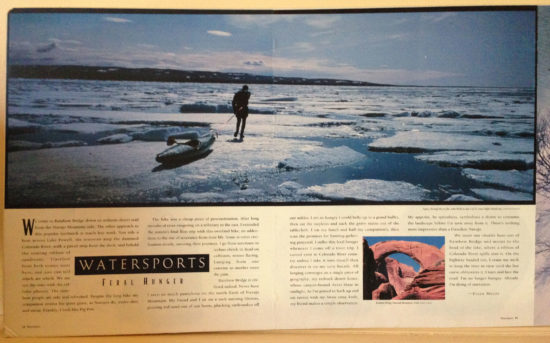 Circa 1989 Patagonia Catalog featuring John Weld crossing and ice field during a Baffin Island kayak expedition.

IR factory artifact.
Eric and I spent the following morning in Morgantown WV at a local cafe before a day on the Lower Big Sandy, part of the Cheat River drainage.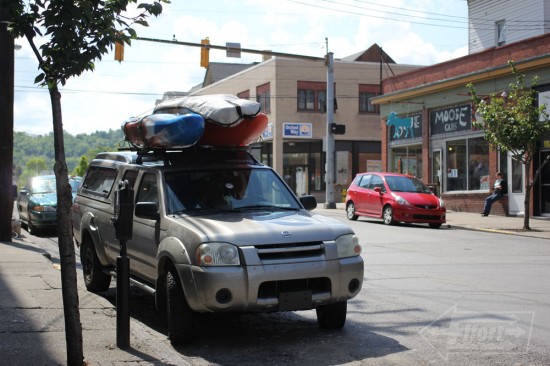 Morgantown WV – Our boats impatiently waiting for us to take them to the Big Sandy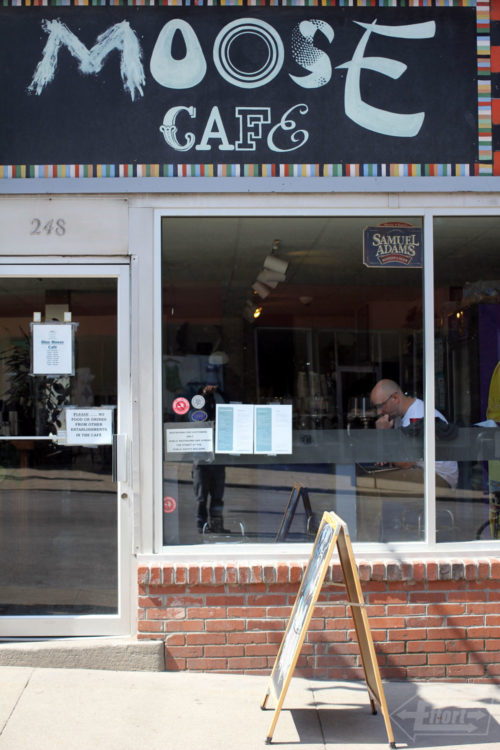 Eric gets some work done in the Blue Moose Cafe before our river trip.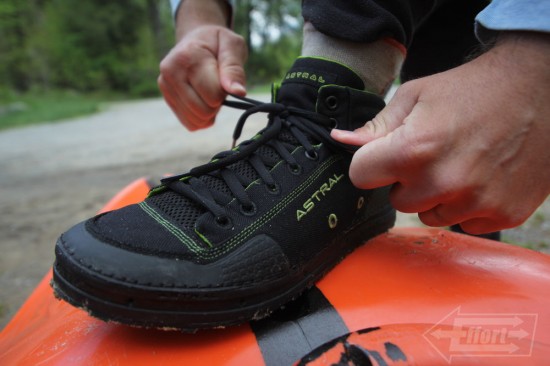 The Lower Big Sandy Putin – Ready to Rassle? Lace up your Rasslers first.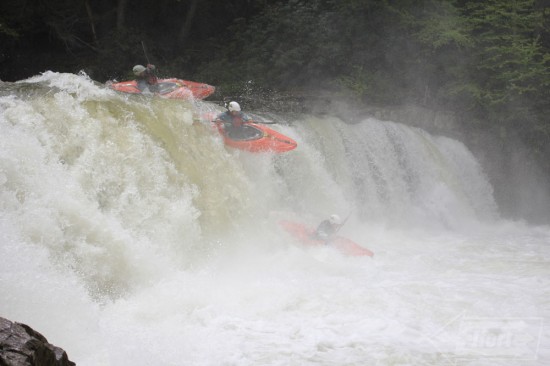 Wonder Falls is a fairly straight forward drop a fun way to start off the day.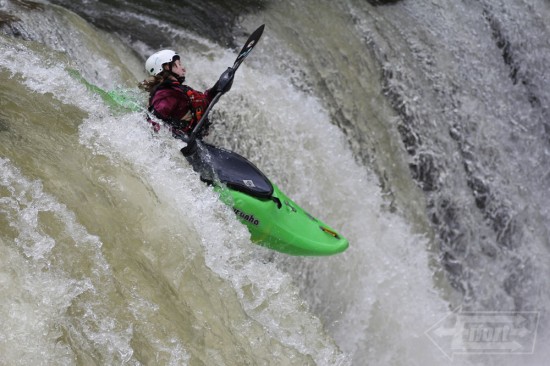 Marissa Maier drops Wonder Falls.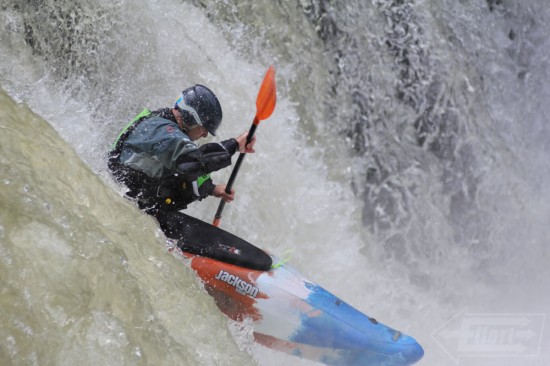 Eric spots a landing at the bottom of Wonder Falls.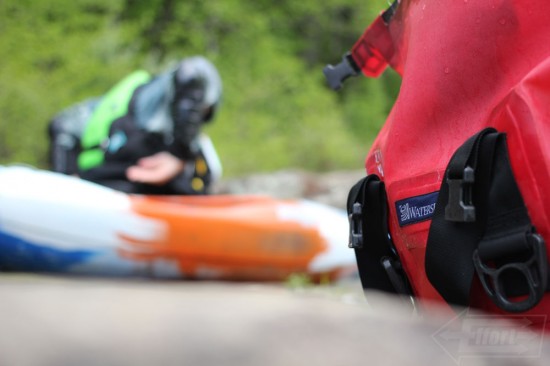 A quick scout at Zoom Flume then back to boogie water.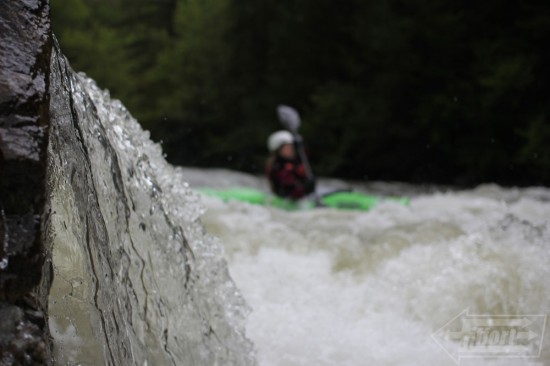 Marissa enters Zoom Flume

Maggie Snowel runs Zoom Flume.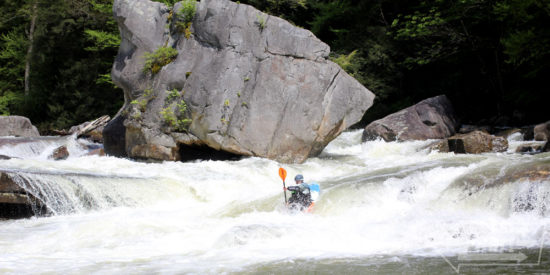 Eric enters Big Splat, the most intimidating and busy rapid on the Big Sandy. Thanks to Maggie for taking photos and Marissa for setting safety.
After a sunny day on a classic creek run with old and new friends alike we took the same country roads back home as the ones that took us to the place where we belonged.  One more quick stop in Maryland then we are ready to blaze a trail back to Asheville.

Between business stops we took an hour to hop onto Mather Gorge of the Potomac River, below Great Falls. Here Eric and Pablo McCandless are seen paddling up the C & O Canal, best way to get to the put in.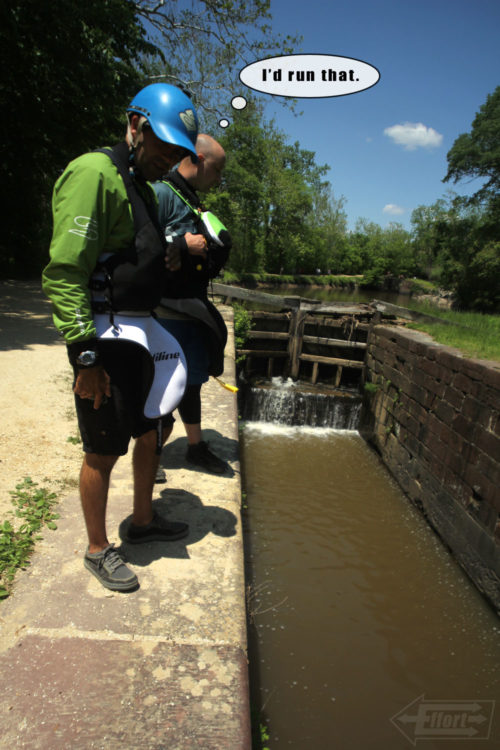 The boys check out a lock that used to fill and drain regularly to move boats up and down the river. Some of the locks are still operational and a well maintained path runs along the entire length of the canal for recreational use.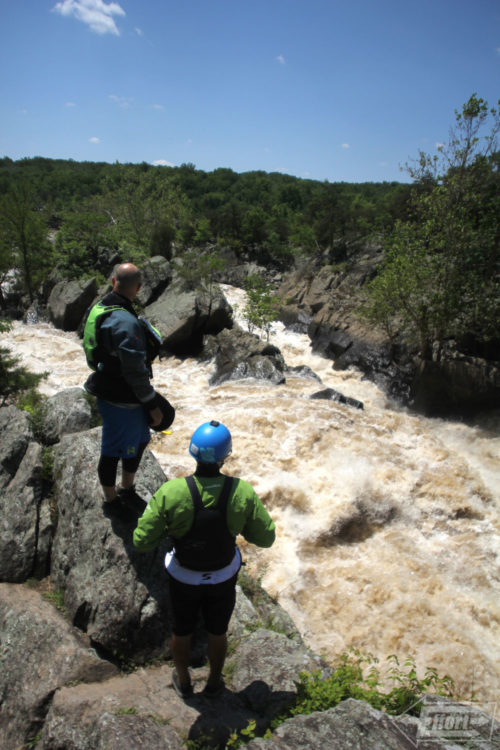 Flood waters affected the entire southeast giving us an opportunity to see the Potomac at big water. This is what the Fish Ladder looks like at very high water. This is far river left on the Maryland side of Great Falls.

Great Falls at flood stage.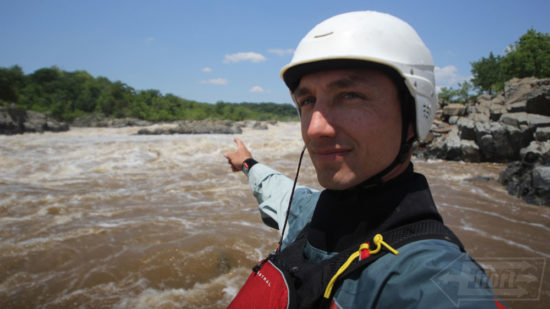 The marked the end of Spring paddling for me, a great way to get ready for a very busy summer to come.
Here's a short video with some footage from these same paddling trips, plus some bonus clips.

Thanks to Eric, Marissa, Maggie, Pablo, everyone at ACE; Brad, Wendy, Russ, everyone at IR; The Welds, Andrew, Sara.
Photography and captions by Spencer Cooke, Effort Inc