The MicroWave Handwarmer Pogies from Immersion Research are a well-thought-out design for those looking to keep their hands comfortable and warm while paddling during a cold weather or cold water season.  How is the user experience of the Immersion Research MicroWave Handwarmer Pogies (MSRP $40)?  Well, first things first, I have general criteria that any cold weather hand protection must have.
Kyle's Cold Weather Hand Protection Criteria
Comfortable:  It should offer a better experience while wearing it than not.
Warm: Just right.  Not too hot.  Not too cold.
Dexterity:  I need to perform all essential paddling skills with relative ease.
Kyle's take on the Microwave Handwarmers

Locations used:  Green River Narrows (NC), Cheoah River (NC), Big Creek (TN), Tellico River (TN), Chattooga River (GA/SC), Isle of Skye (Scotland), and so much more.
A variety of designs exist to protect my hands from cold water while paddling.  Gloves, mitts, and pogies.  At the beginning of my paddling career, I spent more time in paddling gloves, but as years have passed, I have become fonder of pogies.  With pogies, I am able to maintain close contact with the paddle shaft surface while maintaining a comfortable temperature.  If conditions get unbearably cold, I can easily layer pogies and gloves.
The design approach to pogies is relatively simple: an attachment point with each pogie and paddle shaft, and an enclosed area for a paddler to grip the paddle shaft while minimizing expose to cold weather.  Popular designs are constructed with a specific variation of neoprene in a long-cuff or short-cuff structure.  Easy enough, right?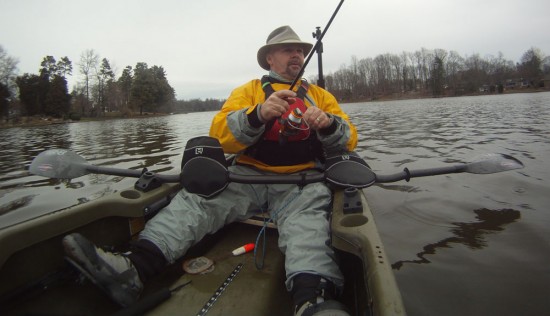 The short-cuff of the MicroWave Handwarmer Pogies is designed with intent, and after only a few paddling excursions, I had a clear understanding of why this choice was made.  While paddling on many of the creeks in the southeast, I frequently toggled between being engaged and disengaged from a pogie.  Whether it is stiff-arming a rock, making an adjustment to my sprayskirt, or performing an on-water rescue, the short-cuff demonstrated a distinct advantage over long-cuff models.  The short-cuff was noticeably quicker to disengage from as well as re-engage with.  With a comparable long-cuff design, there were several instances where I would disengage from the pogie to stiff-arm a rock, and would remain disengaged from the pogie for the remainder of the rapid, due to difficulty with re-engaging with the pogie.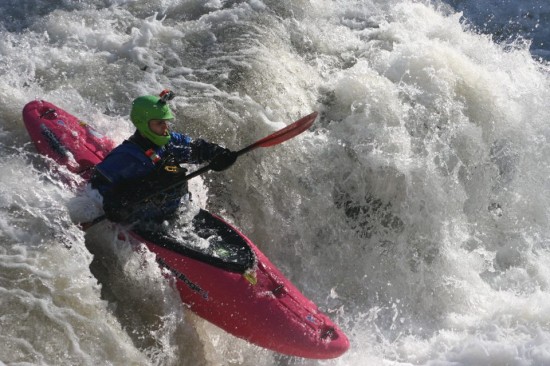 But long-cuff pogies are warmer.  Correct?  This hypothesis did not hold valid during my side-by-side comparisons.  My comparable long-cuff design deflected water and wind to the forearm, which was protected from the elements by drysuit sleeves.  The short-cuff of the Immersion Research MicroWave Handwarmer pogies deflected water and wind to the base of the wrist, which was also protected from the elements by drysuit sleeves, and blocked water and wind from sneaking its way onto my hands with neoprene shields at the access point of each pogie.  The short-cuff and long-cuff designs were well insulating while upright and effectively warmed my hands after a quick roll.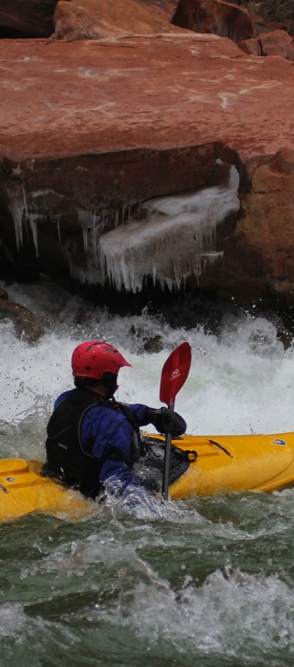 There were a few other features that stood out about the MicroWave Handwarmer Pogies.  The heavy-duty, abrasion resistant neoprene can withstand a significant amount of punishment!  Also, the Velcro attaching each pogie to the paddle shaft is strong as well as easy to trust.  Encounters with rocks, trees, and portage routes can be catastrophic for a piece of gear, but this product maintains the same standard seen with Immersion Research's line of sprayskirts: reliable and durable construction for the most aggressive of environments and users.  The Velcro stays in place and holds reliably after several iterations of clumsily attaching and ripping the Velcro apart.
All things considered, I recommend the Immersion Research MicroWave Handwarmer Pogies for those looking for warm hands on the river or creek while maintaining dexterity and comfort.  This design has been effective on straight or bent paddle shafts, in whitewater conditions, and while sea kayaking on the coast.  I am currently testing other cold weather gear from Immersion Research, so keep on the lookout for those reviews.
Words by Kyle Thomas