Buck Fever (circa 1998-2000, VHS)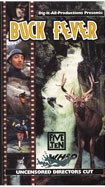 This video is what kayaking and living was to me in the late 90s – Lots of time on the road, lots of kayaking, making friends and building my business-to-be. After meeting through mutual friends in August of 1999, Jed Selby and I decided that we should combine our recently accumulated footage to make one colossal heap of semi-organized, unplotted,  kayaking video. What we came up with in a matter of ten days, and our first ever editing experience, was Buck Fever.
It seems like yesterday when I was rolling down from Boone to do my very first kayak video premiere at Asheville Pizza Company. Jed Selby and I spent ten days with my cousin Jake editing this masterpiece. Jed nor I had a computer and this was the first time we had heard of Final Cut Pro. Jake was getting into the multimedia field and had an early G4 Mac and the first version of FCP. This was our editing crash course and we did crash a few times.
Jake Cook
I can't thank Jake enough for kick-starting me into video production. To this day he still helps me out when I have tech questions. Jake has gone on to create himself a successful, full-time, multimedia career and moonlights at Snowghost Music out of Whitefish, MT.
Jed Selby
Many boaters know what Jed has gone on to do aside from all his paddling accomplishments. Over the past few years he has built a quite impressive business portfolio and still absolutely rips in a kayak. Check him out at South Main, Buena Vista, CO.
Thanks, Spencer Cooke – Effort, Inc.