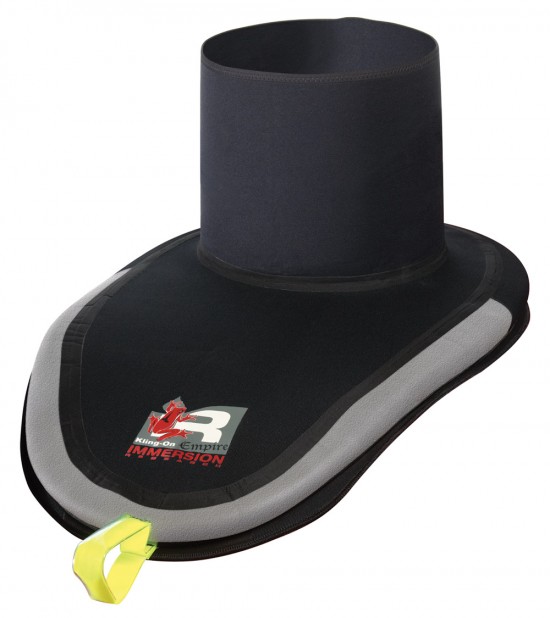 The Kling-On Empire from Immersion Research is a reliable, highly durable spray skirt for those looking to avoid implosion or explosion while on the river/creek while accommodating a variety of cockpit rims.  How is the user experience of the Immersion Research Kling-On Empire (MSRP $190)? Well, first things first, I have general criteria that any spray skirt must have.
Kyle's Spray Skirt Criteria
Reliable:  Failure can cause a life-threatening situation. It must stay on the boat.
Ease of use: Pulling a muscle when attaching a spray skirt to my cockpit rim is not cool.
Durable: Rocks, trees, salt water, paddles, and me.
Kyle's take on the Kling-On Empire
Locations used:  Green River Narrows (NC), Nantahala Cascades (NC), Cheoah River (NC), Gauley River (WV), Chattooga River (GA/SC), Tallulah Gorge (GA), Watauga River (NC), Folly Beach (SC), and so much more.
Water is exploding off of boulders!  I am scouting the most challenging rapid I have ever paddled.  It is in this moment that I need to trust.  Trust the safety set by my team.  Trust the gear to perform flawlessly.  Trust that I have done all of the preparation necessary to successfully navigate the rapid.  Once I head back to my kayak, there will be no room for distractions.  I must focus!
The Immersion Research Kling-On Empire spray skirt has performed well during this moment.  I do not need to sweat about whether it will implode at the base of the drop.  It has proven itself time and time again.  I do not need another person to help me put on the spray skirt on a cold winter day.  It is VERY user friendly and the most reliable bungee-style spray skirt I have ever used.  I trust it in the locations that I would usually bring a rand-style spray skirt to.
I will be honest.  I was a little bit apprehensive about testing a bungee-style spray skirt on the hardest stuff that I paddle.  I was very sold on the rand-style spray skirts for those occasions.  A bungee-style spray skirt should not fail on me in those places!  Immersion Research has produced some incredible products for me in the past, so I gave it a try.
I tested the spray skirt on my playboat, river runner, and creekboat.  I tested it in cold conditions and in the very hot summer months in the south.  In all environments, the Kling-On Empire performed exceptionally.  Attaching it to the cockpit rim was a breeze, but could the high-tension bungee and extra neoprene extending out past the bungee withstand the same punishment as a rand-style spray skirt?  The answer is yes!  I have yet to experience an implosion or explosion with the Kling-On Empire.  This spray skirt stayed tough on drops up to 25' (I have not hucked anything higher with it yet), punching stiff holes, and surfing ocean waves and river play spots.
Was my kayak cockpit bone dry at the end of the day?  No, but there was only a negligible amount of water in the cockpit, and most of that probably came through loose screws in the kayak and my river shoes.  I recently tested the Kling-On Empire with a different manufacturer's kayak design, and the cockpit remained as dry as when I put on the river.  The dryness of a spray skirt may be very important to some folks, but I was busy being dazzled by the Kling-On Empire's ability to handle the pressure of a big hole and massive waves crashing on my bow, as well as the durability of the front casing.
Speaking of which, I am terrible with preserving my gear.  I am a bit clumsy and bump into things, drop stuff, and rub against all sorts of abrasive materials.  Immersion Research really hooked up the Kling-On Empire by laminating the front casting with a high thread-count Kevlar™.  I have seen many spray skirts develop holes and tears over the years, especially around the front casing, and I am glad to see that Immersion Research did user research and reinforced this area, rather than covering the entire spray skirt in Kevlar™ and making it very difficult to attach to the kayak.
Let's not forget the little details that add to the design of the Immersion Research Kling-On Empire.  The spray skirt features a highly visible, slip-resistant corrugated grab loop.  We are all in between swims, so having an easy to spot, easy to act grab loop is helpful in those serious moments.  Purchasing this spray skirt also comes with another wonderful thing, Immersion Research's first-class customer service.  If you have any problem with their product, you can send it in to be fixed and it will be returned expeditiously.  Immersion Research is a company that stands behind their products, paddle with these products, and continuously iterate to improve the user experience, so it is quite hard to ask for a better company to support.
All things considered, I recommend the Immersion Research Kling-On Empire for those looking for a reliable and highly durable spray skirt that can fit a variety of cockpit designs and put up with a lot of punishment on and off the water without being a distraction while paddling a tough line.  This spray skirt is effective for any day on the river or while surfing waves at the beach.  I am currently playing with the Immersion Research Royale, so keep on the lookout for that review.
Photos and words by Kyle Thomas, Effort Inc.