Greetings boaters, surfers, skaters, bikers and nature lovers alike.  It's not everyday that someone gives you a two-days-before-Thanksgiving present, and you may thank ThePunkSite.com and a load of very lovely bands and labels for this one.
OFFICIAL PRESS RELEASE: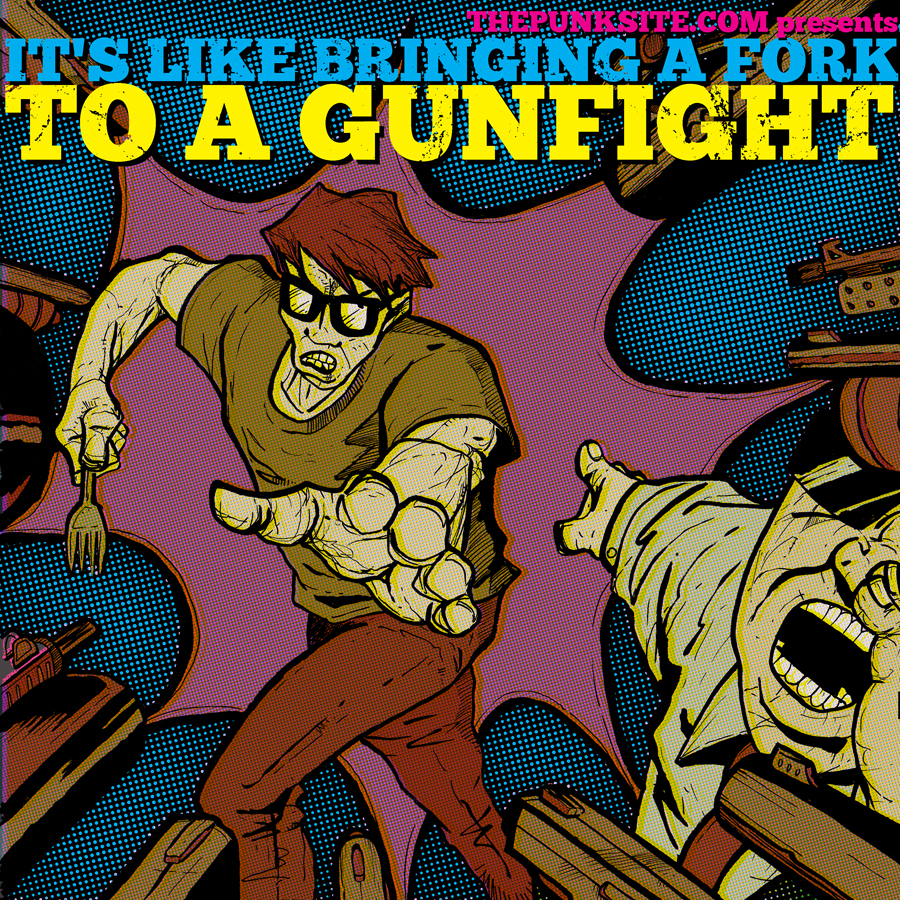 ThePunkSite.com Presents:
It's Like Bringing A Fork To A Gunfight
Today, ThePunkSite.com released a free, thirty-five song digital compilation through their Facebook Page (http://www.facebook.com/thepunksite?v=app_4949752878) called It's Like Bringing A Fork To A Gunfight. You can download it in two different formats (a 128kbps version and another where most of the songs are 320kpbs for all those audiophiles out there) by simply "Liking" ThePunksite.com on Facebook. Liking the site will not only enable you download the compilation for free but will also help keep you up to date with what's been happening in the punk world.
For It's Like Bringing A Fork To A Gunfight. ThePunkSite.com teamed up with Paper + Plastick Records, Warbird Entertainment, Union Label Group, No Idea Records (and Southern Lovin' PR), Sailor's Grave Records, Kind of Like Records and a few unsigned bands to offer a varied and eclectic mix of bands from all spectrums of the punk rock genre (although, no emo).
There's some of the best pop-punk of the year courtesy of Mixtapes, The Dopamines, The Arrivals, The Gamits and more. Post-hardcore makes an appearance through The Holy Mountain, Todos Caeran and Fiya along with some melodic hardcore from Make Do And Mend, Protagonist, and Rust Belt Lights. Psychobilly is present through The Brains and The Creepshow while folk punk is in full force thanks to Defiance, Ohio and Audio/Rocketry. Of course, there's some straight out punk like Harbor 81, Hollowpoints, The Dreadnoughts, and Burning Streets too. Suffice to say, it's a good mix.
On top of different styles, there are a total of four different countries represented on the compilation: United States, Canada, Germany and Sweden. Alongside many of the American bands, the compilation has total of eight Canadian acts (The Dreadnoughts, Audio/Rocketry, The Brains, The Sainte Catherines, Feast or Famine, Todos Caeran, Carpenter, and The Creepshow), Small Town Riot comes all the way from Hamburg, Germany and Tommy Gustafsson & The Idiots along with Subwaste both come from Sweden – Strängnäs and Orebro respectively.
The full track listing can be seen below.
The compilation can be downloaded here: http://www.facebook.com/thepunksite?v=app_4949752878 right now.
It's Like Bringing A Fork To A Gunfight Track Listing
Mixtapes – I Was A Teenage Poltergeist
Small Town Riot – Backstreet Story
Defiance, Ohio – Dissimilarity Index
Tommy Gustafsson & The Idiots – Bring The Rope
Let Me Run – Corey's Song
The Dreadnoughts – Cider Road
Kings of Nuthin' – Old Habits
Down and Away – Downtown
The Measure [SA] – Timburkulosis
Audio/Rocketry -Hallelujah Halifax!
The Gamits – Falling Apart
VRGNS – Hide and Seek
Protagonist – Light the Fuse
Rust Belt Lights – Forty-Five
The Brains – Screaming
Subwaste – Final Blackout
Captain, We're Sinking – Crushed by Milwaukee's Best
The Sainte Catherines – We Used To Be In Love
Feast or Famine – Locked Doors
Burning Streets – Throwing Rocks
Make Do and Mend – Transparent Seas
Harbour 81 – Queen of Hearts
Restorations – Title Track
Shores – Robin
Todos Caeran – Questions
The Holy Mountain – Here Is No Exit
Carpenter – Mean Things
The Dopamines – My Future's So Bright, I Gotta Wear Night Vision Goggles
Fiya – King
Direct Hit! – Werewolf Shame
American Werewolves – Coffin Brothers
The Creepshow – They All Fall Down
The Hollowpoints – God Save Anna Nicole
Guns on the Run – Her Blood Means War
The Arrivals – Simple Pleasures in America