RiverLink and the Nantahala Outdoor Center (NOC) Outpost on the Nolichucky River are hosting a white water film festival to showcase the adventure whitewater films of professional kayakers and filmmakers at Rapid Transit Video. The festival will feature the world class whitewater of rivers right in our own backyard including the Nolichucky River and a feature on Linville Gorge entitled THE EDDY FEELING. Films will air on Tuesday, May 26th at 8:30 pm. Event will also feature a boating and outdoor gear raffle with gear donated by REI and a chance to talk with Rapid Transit filmmaker Spencer Cooke.  Rapid Transit DVDs will be on sale at the event.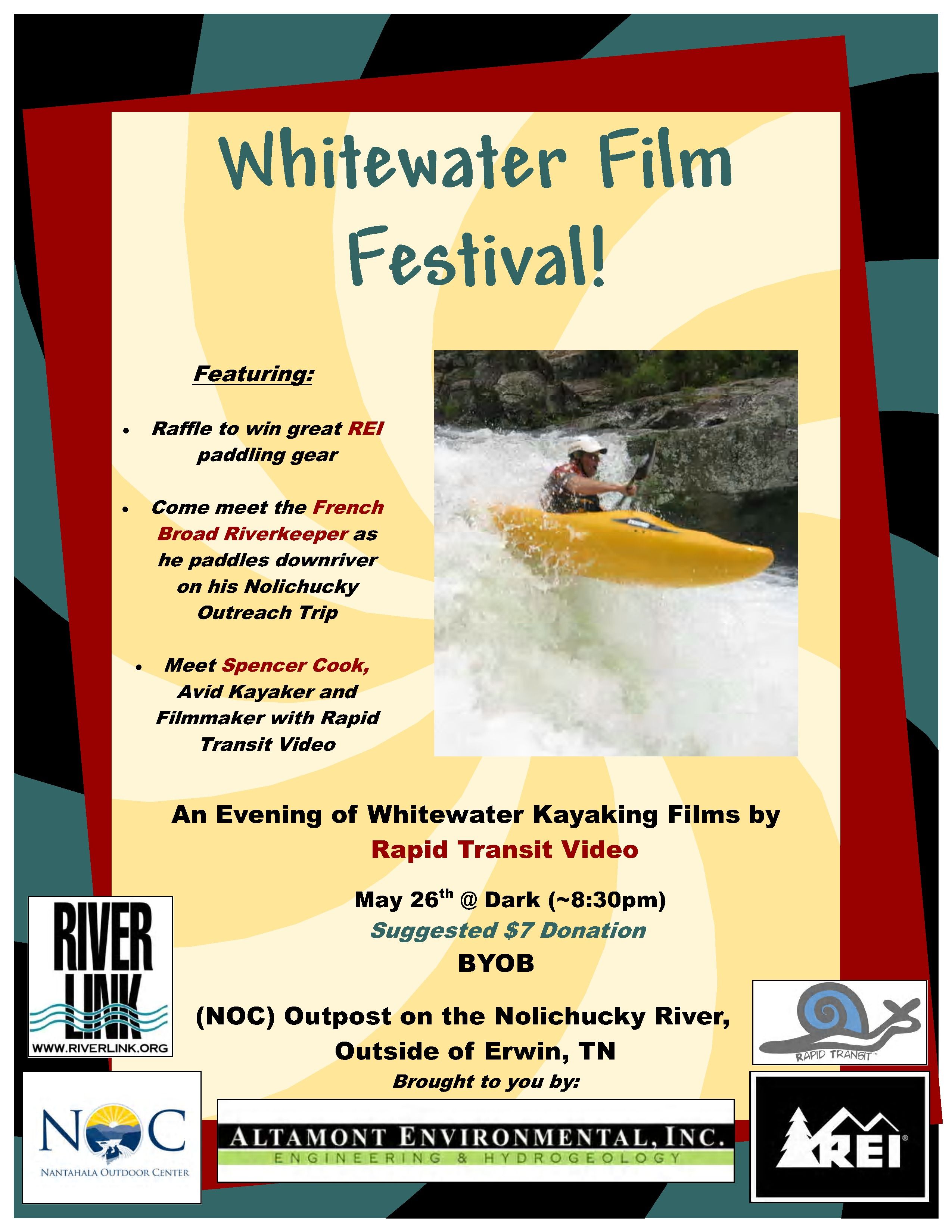 This event is part of RiverLink's Paddlin' the Nolichucky, a two week monitoring, education and outreach trip starting on the North Toe River in Spruce Pine, NC and finishing at the mouth of the French Broad River 140 miles downstream near Knoxville, TN. This trip is designed to monitor the water quality of the river, but to also educate the public about the challenges facing the river and highlight the river as a world class recreation destination. Come out and meet RiverLink's French Broad Riverkeeper and enjoy an evening on the Nolichucky River.
Want to make a whole day of it? Join the Riverkeeper and elected officials from the area for a guided rafting trip down the exciting class II-IV rapids of the Nolichucky gorge. We'll meet at 1pm at the Nolichucky NOC outpost and end in time to grab dinner and catch the film festival. RSVPs for the river trip are required to Palmyra Romeo, French Broad Assistant Riverkeeper, at palmyra@riverlink.org or (828) 252-8474 x119.
"RiverLink is a regional organization spearheading the economic and environmental revitalization of the French Broad River watershed as a destination where everyone can work, live and play.  For more information about how you can get involved and learn about all of our projects check out our website www.riverlink.org or contact us at information@riverlink.org, 252-8474. Sign up for our email newsletter to read project updates and find out about upcoming events!"
**This event is open to the public and media**
Don't miss Paddlin the Nolichucky, a series of fun events surrounding RiverLink's two week monitoring and outreach trip down the entire length of the Nolichucky River. Visit www.riverlink.org/PaddlintheNolichucky.asp for the details on events such as a film festival, overnight paddle, and RiverFest.
May 26th Itinerary:
8:15 – 8:30: RiverLink Introduction and Introduction of Rapid Transit/Effort Inc + Raffle ticket Sales
8:30 – 8:35: First (1st) Film – Nolichucky: Dangerous Waters (5min)
8:35 – 9:20: Second (2nd) Film(s) – Short Film Compilaton by Rapid Transit (45min)
9:20 – 9:30: Intermission, raffle drawing for REI gear
9:30 – 10:30: Third (3rd) Film – The Eddy Feeling (1hr)