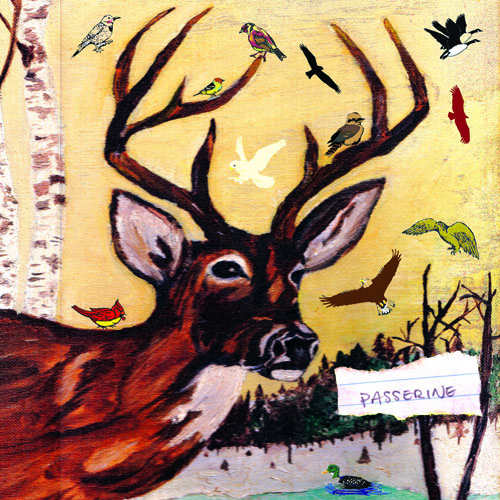 Patrick Lee's newest album pulled a trick on me. I listened to the sample on his website and purchased the download, expecting to be treated to more of the groovy, electronic, beat-driven tunes that he's been producing at a prolific rate for years. I got that much: The album (entitled Passerine) builds on Patrick's distinctive style of electronic, sample-based music, and then it takes it up several degrees of complexity and intrigue.
This collection of 30 songs is thematically centered around a recording of Minnesota bird songs that Lee samples throughout the album. Each track is devoted to one distinct avian species. I'm no ornithologist, but I get the impression that Lee is liberally interpreting the sound signature of these bird species, taking more suggestive inspiration from their names rather than trying to literally replicate their tones and characters. Yet it is impressive how effectively Lee evokes the character of each bird species: the trills of the Brown-Headed Cowbird, the menacing foghorn of the Killdeer, the rapid chatter of the Chipping Sparrow. And the effect is grand–instead of a calm, considered review of bird tweets we enter a world of massive sounds–deep base drones, driving rhythms, and occasionally uplifting, anthemic melodies. It's lovely, mesmerizing music, and it works very much as a concept album, where the whole is ever more wonderful than the parts.
Lee has taken birdwatching out of the realm of whispered reverence and planted it firmly in an aural world of fantasy and drama. This is music that you can take in through headphones with your eyes closed, letting yourself be carried away on a sonic journey of the imagination. Listening to the songs, I got the feeling I was entering a wood inhabited by otherworldly, potentially dangerous, and ever-beautiful flighted creatures. In my mind's eyes I was on a path with shadows and trees encroaching close on both sides, and by turns the path led me through passages that were threatening, playful, beautiful, and exciting. And always there was the familiar, monotone voice of the bird-watching narrator returning to announce the newest winged star of my symphonic ramble through the woods.
This is unlike any music that I have heard before. Lee's distinct signature is present throughout, but he's created an experience that is at once intellectually stimulating and emotionally evocative on a deep level. It's not easy listening–it requires attentiveness and engagement–but it is most certainly rewarding listening. Check out this music on Patrick's website, and then download it; because you won't be able to appreciate the richness of this album until you listen to it all the way through. And although Patrick has his music available for free download online, please pay him what you can for the work–he certainly deserves it, and, like us here at Rapid Transit, he's largely dependent on the generosity of his listeners to keep his work going.
Thanks for reading,
Gallaway