I'd like to exude the energy that these guys, Dear Landlord, project off their newest album Dream Homes. Drop your energy drink and listen to Dear Landlord…it'll do the trick.  Here's a little footy from a cool song "I Live in Hell" that was filmed on their latest tour in the UK.  Wish I could have been there, looks like fun
Dear Landlord – I Live In Hell – Live at The Fighting Cocks, Kingston, UK – 14/05/10 from Everything Sucks TV on Vimeo.
Seriously give these guys a listen.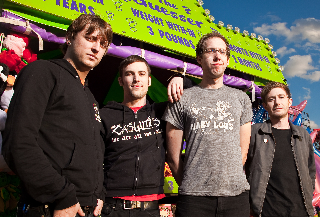 You will enjoy it!
http://www.myspace.com/insubordinationfest
http://www.myspace.com/letslynchthedearlandlord
http://www.punknews.org/bands/dearlandlord
http://www.punknews.orghttp://jsgainesville.tumblr.com/
– Hunter
RapidTransitMusic.com