To the people of the party, comes the party for people…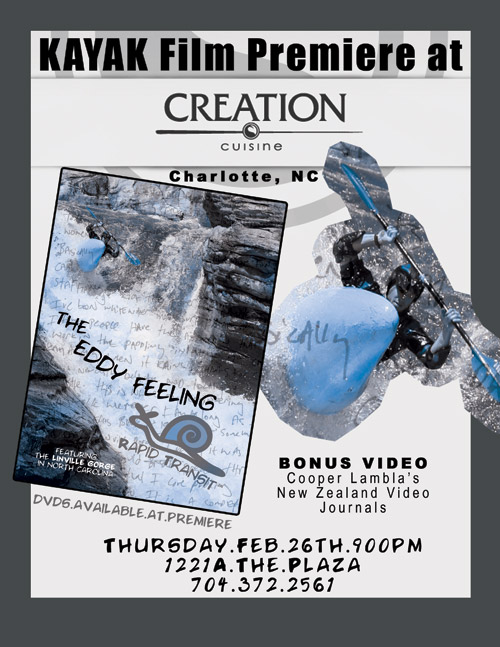 From the Donkey Era, to the Green Race Movie, Creation Cuisine has been supporting Rapid Transit Video since before it even existed.  Once again they are stepping up their extraordinary hospitality by throwing yet another Crown Town Whitewater Get Down!
…details on the official event poster above…
This time around the big screen is going to be pumping out RT's freshest product, The Eddy Feeling, as well as my NZ Video Journals.  My brotha Stacy behind the bar is going to be treatin' the over 21ers right with a few drink specials including $2 domestics as well as $4 20oz. Guinness.  So mark it on the spot….come out and rock, and catch up with some fellow drought stricken friends.
All the playas came from far and wide, wearin' afros and braids kickin them gansta rides, Now I'm here to tell ya, there's a better day, When RT be rockin' all day ery'day!
Catch yas next Thursday!!!
–Coop
…Big UPS out to SPC for putting the video together and supporting the Charlotte whitewater scene.  Also, let me shout out some Mad-Diggy-Dangs to Stacy and Kelly at Creation, as well as my brotha Chris BOONE for helpin' tie it all together!!!  Love you all HEAPS.