Here's a short list of things that I really enjoy:  adventure, films about adventure, craft beer, and kayaking. On February 16th (Thursday) we're going to have an opportunity to throw all of those things together for a night at the Southern Appalachian Brewery (S.A.B.) in Hendersonville. And we're going to give away a kayak to boot!

Now that all you boaters have perked up, let me fill in the details of the event and we'll get to the boat giveaway a little further down the page.
This evening will feature four short films from a variety of outdoor experiences (surf kayaking, longboarding, backpacking, and river running). We'll be showing a re-cap of the World Championships of Surf Kayaking (held at the Outerbanks last fall), a Longboard Asheville short, "The Grand Canyon in Winter" (a segment from Coming Home), and the evening will conclude with "The Smokies: Punished into Ecstasy," a story about backpacking the A.T. through the Smokies in winter. Most of these films were produced in Western North Carolina with the support of Outdoor Sports Marketing, a great local business that has its offices a few doors down from the Southern App. Brewery. O.S.M. represents leading gear manufacturers in the outdoor industry, from Chaco to Osprey to Cascade Designs.
There will be a $6 cover at the door with door prizes provided by S.A.B. and Diamond Brand Outdoors. All proceeds from the evening will go to benefit Our Voice and RiverLink, two organizations doing important work in WNC. So you can know that you're money is going to a good cause. The films will start around 7:30, and the bar has limited seating; so get there early to secure your spot.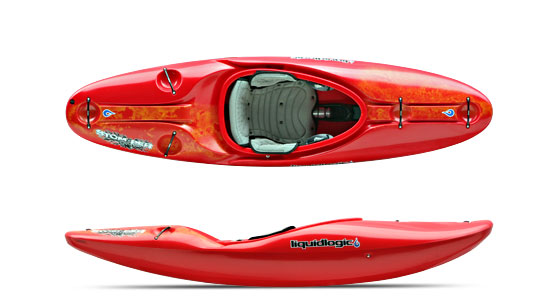 Now for the kayak giveaway. As most local river people know, Liquidlogic Kayaks and their parent company Legacy Paddlesports recently moved their base of operations back into Henderson County, home of the mighty Green River. This is great news for the local economy, great news for local paddlers, and great news for the Southern Appalachian Brewery where the Legacy folks often go to unwind after a long day of designing kayaks. On one visit to the S.A.B. tasting room the Legacy crew learned that Rapid Transit is partnering with the brewery to host this night of adventure films to benefit RiverLink and Our Voice. Knowing the quality of these two organizations, the Legacy folks offered to support the effort by raffling off a kayak from their lineup. So, in the days leading up to the Adventure Film Night at S.A.B. we will be selling raffle tickets ($10 each) to win a kayak from the Legacy Lineup (this includes any boat from the Liquidlogic and Native lines EXCEPT the Mariner and Ultimate Multisport models). That means you could win a new Stomper if you're a whitewater junky, a Manta Ray if you're a kayak angler, or a Versa Board if you're into the recreational side of things. This is a fantastic opportunity and a great way to support local non-profits. Tickets will be available for pre-sale after February 3rd at the Southern Appalachian Brewery tasting room in Hendersonville (note their hours of operation below), the RiverLink offices in Asheville, Diamond Brand Outdoors in Arden, and Our Voice offices in Asheville. Entrants need not be present at the film night to win.
We hope you'll get your name in the running for a new boat and also support our local community. And we hope you'll come out to join us for a night of films on Thursday the 16th at Southern Appalachian Brewery in Hendersonville. This is one of the few occasions when drinking beer and extreme sports go well together.
Here's a trailer for the Smokies story:

The Raffle Details:
Enter to win 1 kayak from the Liquidlogic and Native line of boats (excluding the Mariner and Ultimate Multisport series). Raffle tickets are $10 each, and entrants need not be present at the film night to win. Raffle tickets will be available for sale at two locations after February 3rd. (*Note – contest entrants must be able to travel to Henderson County, North Carolina to pick up their kayak in the event that they win) Raffle tickets are available at:
1. The Southern Appalachian Brewery Tasting Room, 822 Locust Street, Hendersonville, NC 28792. Open Wednesday thru Friday, 4pm to close, and Saturday thru Sunday, 2pm to close.
2. The RiverLink offices, 170 Lyman Street, Asheville, NC 28801. Open Monday through Friday, 8am to 5pm.
3. Diamond Brand Outdoors, 2623 Hendersonville Rd., Arden, NC 28704. Open Monday thru Saturday, 10am to 7pm, Sunday 12pm to 6pm
4. Our Voice offices, 44 Merrimon Ave. Suite 1, Asheville, NC 28801. Open Monday thru Friday, 8:30am to 4pm.
A huge thanks to our business partners who are making this event possible: